We have analyzed the niche of the gaming templates on ThemeForest website and decided that it was necessary to create a new product that would differ the unusual design, the flexible configuration and the clean code. The incarnation of this idea is reflected in the theme Youplay in the 18 of July 2015 year. To this day it is the flagship theme.
For whom is Youplay?
Youplay will approach for an audience that creates gaming sites and playing games and will be of interest to those who have their own online store.
WOW Design
A distinctive feature of Youplay is the presence of the tapered elements such as buttons, carousel pictures. This immediately attracts the attention of the audience. We have come up with several options for website design: dark, shooter, anime and light. The dark design option looks epic and immediately create the atmosphere of your site.
The dark design option looks epic and immediately create the atmosphere of your site.
With Youplay you can create an online store or blog.
We paid special attention to gamers. Youplay can be used as a social network through plugin BuddyPress. Users can communicate through it, and they can use bbPress forums.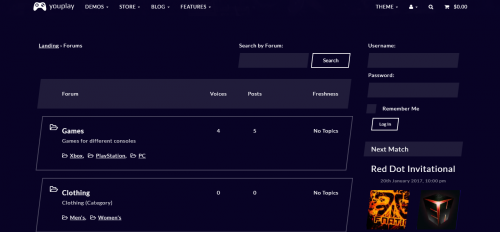 In Youplay have the support of clan wars. You can create games and clans, organize competitions between them. The site of the battle results will be visible.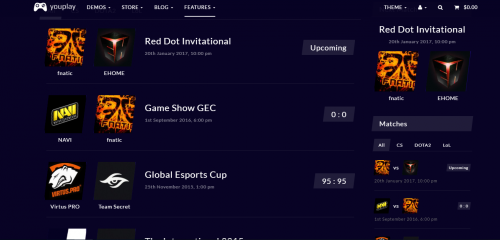 Options
You can customize the theme to your liking. For there are options such as:
Theme Style
Fonts
Navigation
Single Page
Single Post
Single Match
Posts Archive
WooCommerce
bbPress
BuddyPress
Search Page
404
Footer
Twitter
Instagram
Maintenance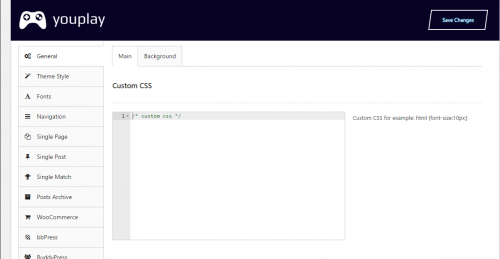 For example, in Theme Style, you can select any basic color, text color of the site, customize the fonts and navigation bar.
Shortcodes and widgets
With Visual Composer you can customize the content of your site without touching any lines of code. It includes 21 shortcodes from Youplay theme.
You can also use widgets area. Besides, the standard widgets in the theme have 5 Youplay widgets, available to users.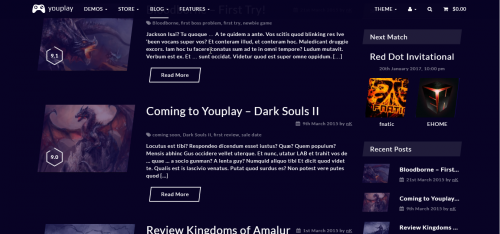 Clean Code
Particular attention was paid to the theme code, make clean, flexible, responsive, working theme with the awesome Visual Composer and created with a powerful admin options panel to fine tune the theme. Page flipping smoothly and fast.
You can easily customize the Youplay, using the control panel and without getting into the code itself. The site has detailed instructions how to install the theme, and you can see the video on installing themes for WordPress.
We are constantly updating the theme, considering the interests of our customers. Last updated Youplay was the 20 of October 2016 year. The uniqueness of our product is in the original design, combined with clean code and an individual approach to each customer.
We will continue to seek for you.